When I first spoke with La Crème Modelling and Acting, I was just trying to push my portfolio. I saw some of their models and thought whoa, I would love to work with them. Little did I know that shortly after that conversation I would be invited to photograph NJ's premier Fashion Week event. Needless to say, I was over the moon. So let's get to it! ;)
Natasha Berezhnaya: Part I
Beginning the show was Natasha Berezhnaya's costume designs. Berezhnaya's designs were full of drama, mysticism and whimsy; three words I could likely use to define myself. But all kidding aside, I fell in love immediately. Her use of color and silhouettes really allude to a playful imagination that's both refreshing and exciting.
Maci's Design is known for their special occasion gowns. These gowns are tailor made for princesses and queens of all ages.
When Adrian Alicea's first piece came out, I almost lost my cool. When you see Adrian Alicea, you see high fashion. His pieces were radical, chaotic and bold. Dare I say, streetwear gone rogue?
Adrian! I need that black and white hoode

d robe!
Group USA by Camille La Vie
Group USA brought a conservative note to the runway with a charming selection.
Lourdes Peña's pieces are instilled with a Latin flair that can only be crafted by an authentic Latina. I felt a wave of grace and elegance as each model glided down the catwalk and again when Peña herself stepped out as well.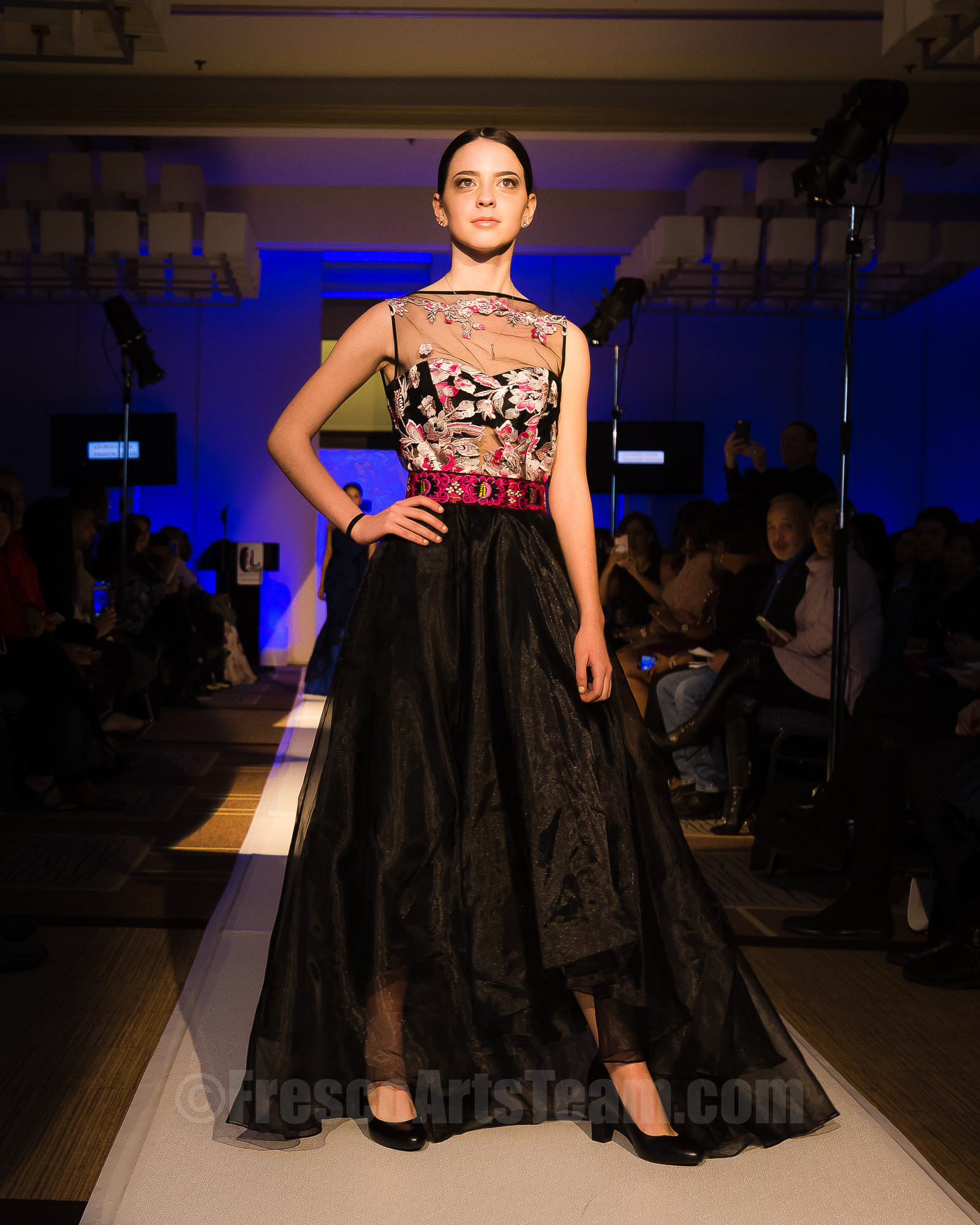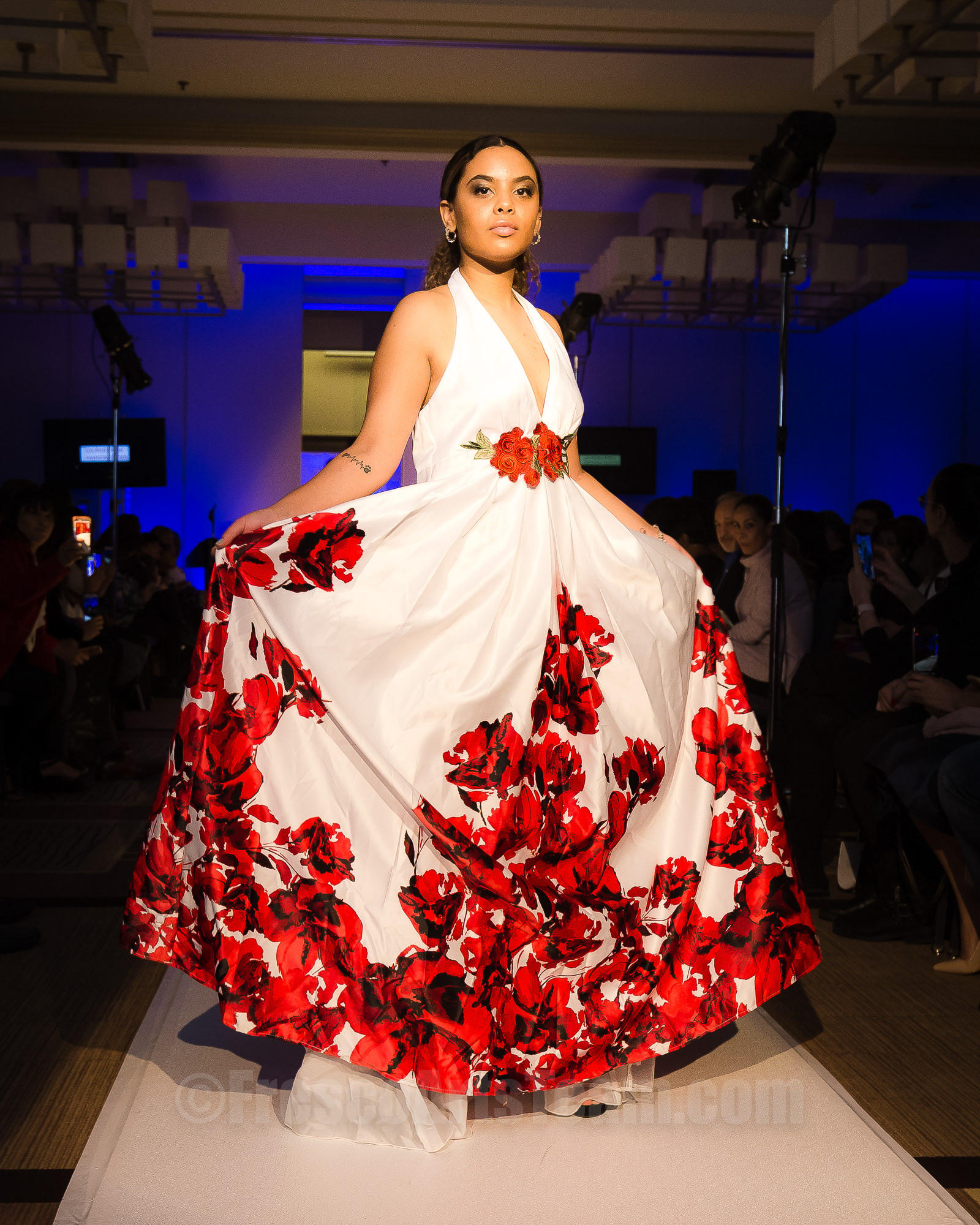 Iluminata Mota Claudy Designs
You had me at red. Not only is red the color of passion, but these particular hues are the kind that kill. Everything about these pieces scream femme fatale. No one is safe from the seduction.
Simply by seeing Azana Serene, it is not difficult to understand how truly close the identity of her pieces are to Serene herself. Each gown embodies a strong feminine energy that instills confidence and class. She is a prime example of a designer who does so much with so little. Black isn't back. It never went away.
"Starlets" by Maria Luz Rivas
"Starlets" comes off exactly as it sounds. Each piece resonates with a periodical archetype. Personally, I fell in love with the Goldfinger jumpsuit. However, as a fellow nostalgic timepiece lover, Rivas impressively reimagined each piece in both style and execution.
Can I just say cuteness overload? These kids are incredibly adorable. Each piece seems to be a nod to different eras. But I'm most in love with the little prince and princess below as well as the Victorian inspired gowned beauty right next to them. There is no other way to dress your children up after you've dressed them in D'Lora Moda.
Mateo Design's pieces are plenty of fun mixing the celestial with the festive.
​​​​​​​

Tutu Cute Creations are exactly that. Whimsical, unique and full of character, these pieces are all about letting your imagination run free.
​​​​​​​

"Politics as Usual" I love this message because it works on multiple levels. We've seen a huge move toward activism inspired fashion. And messages like these, help to empower its wearers to protest for a better tomorrow. There is certainly room for improvement, but we get closer with each step.
Ocloo Clothing is all about blessings and gratitude. With patterns suggestive of peace and positivity, it's a welcome introduction into the fast-paced world of fashion.
If there's one thing I notice about M&M, it's "Color." It's as if an eskimo jumped into vats of skittles and came out tasting the rainbow. They put the fun in functional.
mmaccessoriesstewartsville.com
HDZ NY drips of classic NY chill.
La Crème Model and Acting
We've seen some amazing pieces that have taken center stage. But I think it's time to let the models loose. "Open the gates!"
Natasha Berezhnaya: Part II
Did you really think you'd seen the last of Berezhnaya? Of course not. It wouldn't be drama if we didn't close the show out with a bang. Berezhnaya, dazzles the catwalk once more. My prayers have been answered.
​​​​​​___
All rights reserved ©2019 Fresco Arts Team
Post Show: Behind The Scenes
The lovely host and CEO of La Crème Modeling and Acting (right) alongside this evening's award winner, Dr. Jose Wiley (left). This NJ Fashion Week event was about more than fashion, it was also a benefit for cancer research. Dr. Jose Wiley made remarkable strides in the field and we took time to recognize his achievements. I am honored to have documented this event and given toward the cause.
A deserving nod to the vendors
Farewell.
​​​​​​___
All rights reserved ©2019 Fresco Arts Team